Miriwoong Language Nest
The Miriwoong Language Nest began as a pilot program in 2013, before being rolled out formally in 2014. The program creates an immersive environment and uses immersion techniques to enable young children to learn Miriwoong and exposes them to new language experiences. It is based on a model developed by the Maori in New Zealand and the Language Nest at MDWg is one of the first to operate for Indigenous languages in Australia.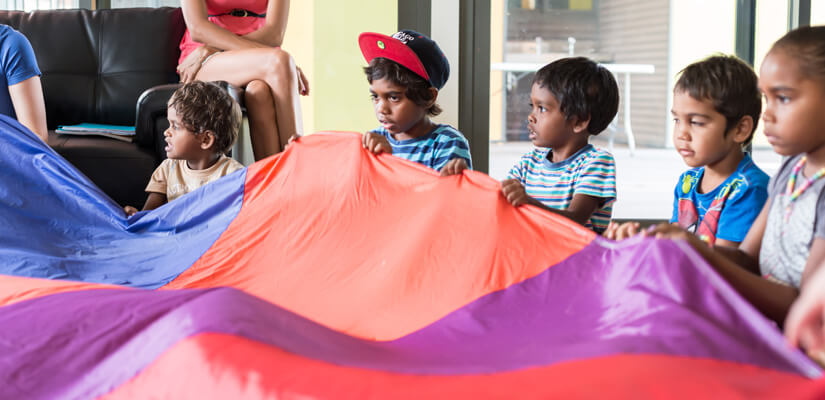 The aim of the activity is to increase both the knowledge and use of Miriwoong in the community, with a focus on early childhood. Since young children are at the optimal age for language learning, we have high hopes of making a difference in the preservation of Miriwoong. By participating in this program, children will also develop a stronger cultural awareness and pride, improve their self–esteem, and increase their prospects of better learning in the standard school environment.
Publications by the Miriwoong Language Nest Team
In July 2017, the Language Nest team released a book entitled 'Gooloo-gooloob Yarroondayan', which means 'We are all happy'. This book was created using both the ideas and illustrations of Year One Language Nest participants at Kununurra District High School. Read more about MDWg's publications here.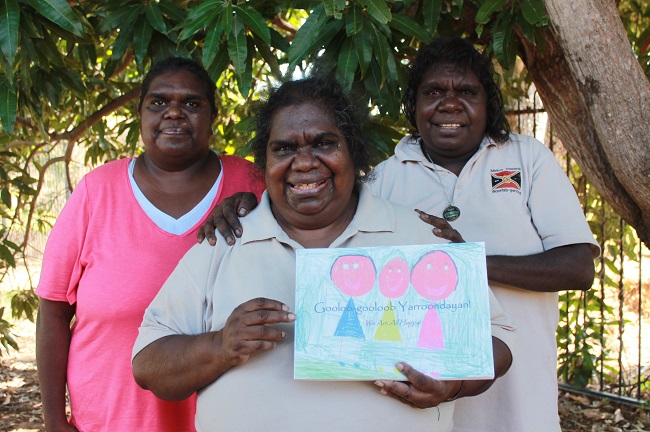 Supporters of the Miriwoong Language Nest
The Miriwoong Language Nest works in partnership with various organisations in and around Kununurra, including:
Gawooleng Yawoodeng Pindan Centre
CSSU Kununurra Early Learning Centre
St. Joseph's Catholic Primary School
Kununurra District High School
One Tree Early Learning Centre (Woothoo-woothoong thoon Ninggoowoong Dawang)
Ewin Early Learning Centre
Wunan Kununurra Children and Parent Centre
We are grateful to both Lotterywest and the Indigenous Languages Support program for providing valuable start-up funding for the Miriwoong Language Nest. We also thank Save the Children, MG Corporation and the Department of Prime Minister and Cabinet's Indigenous Advancement Strategy for supporting the continuation and growth of the Miriwoong Language Nest. You can support the Miriwoong Language Nest by donating today.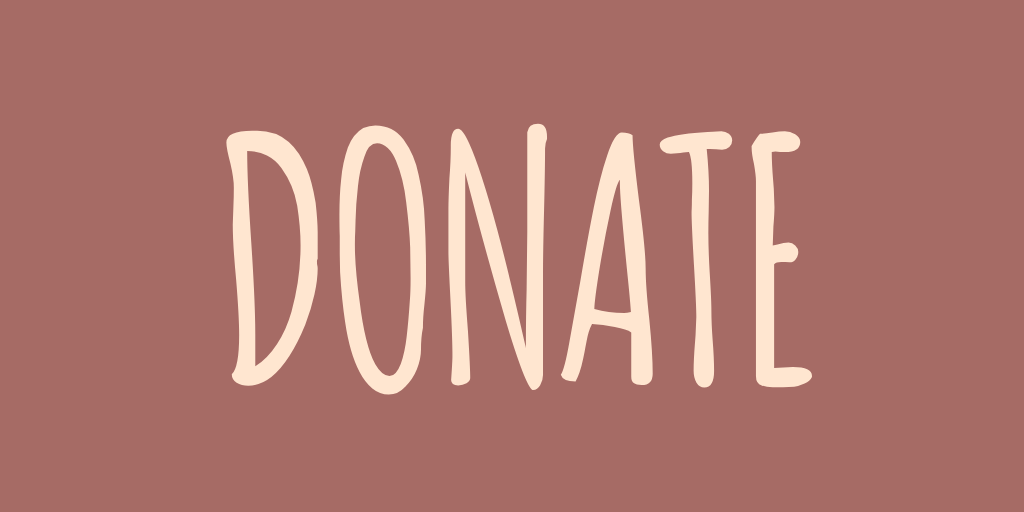 This is what some of our partners say about the Language Nest
"The children are now teaching their parents, grandparents and guardians new Miriwoong words!"
"I have seen a great increase in the children's knowledge in using the Miriwoong language. The way the Language Nest delivers the lessons is outstanding."
"[The program] is extremely important as it teaches children about Miriwoong culture which increases cultural understanding and respect for Indigenous culture."
"This program is building cultural understanding and respect for Miriwoong people and language amongst all students. I believe that over time this program will build confidence and self-respect for Indigenous children involved. The Language Workers are fantastic and they bring high-quality resources and games to play with the children. I can't commend them enough for the amazing work they are doing to teach children Miriwoong."
"This program has been a huge success for our children; it's been fantastic to see our local indigenous and non-indigenous children learn the local language. Without this program for the children, the local language would most definitely be lost…Without the local women delivering this program, the language would be lost in Kununurra. I thank you ladies for teaching our children, the rooms are buzzing with excitement when the children see you arrive!"
Thank you to the funding partners of the Miriwoong Language Nest: