Latest News
Modern Miriwoong
Modern Miriwoong
This year, MDWg launched the Modern Miriwoong project. Modern Miriwoong is an initiative designed to increase the amount of Miriwoong signage displayed throughout Kununurra and its surrounds. Since the project launched in July, we have been busy approaching local businesses and organisations and offering language consultation.
Miriwoong is an ancient language and has a rich vocabulary to describe all aspects of nature, traditional living and culture. Items and concepts that were introduced recently through colonisation and westernisation did not traditionally exist in Miriwoong. For instance, words for technical equipment and modern infrastructure were not part of Miriwoong life until a few decades ago, and therefore the language does not have any words for these.
We see Modern Miriwoong as an important and essential step if we want to see the Miriwoong language being used everyday. Developing words for things such as 'swimming pool', 'reception' and 'computer' are aspects of the project that we believe will encourage people to use Miriwoong in today's context.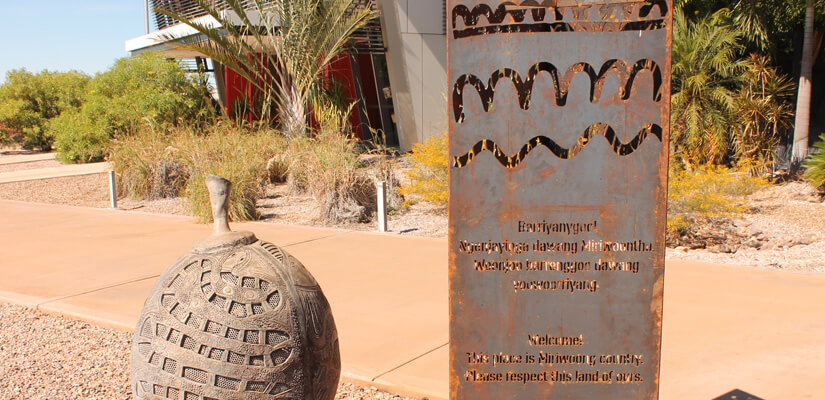 We believe that this project will highlight the cultural richness of the region. We also believe that having the Miriwoong language displayed around town will increase the cultural pride felt by the Miriwoong community.
Click here to read some more about Modern Miriwoong. If you're interested in participating in this exciting initiative, please call us on (08) 9169 1029. Alternatively, send an email to info@mirima.org.au.
The Modern Miriwoong project is funded by the Western Australian Government's Regional Grant Scheme and Joint Management Committee Reserve R31165.