Miriwoong Cultural Awareness Opportunity on 20 October 2021
Horizon Power Community Partnership helps launch Miriwoong Language Nest Interactive Learning Program!
Mirima Dawang Woorlab-gerring is an Indigenous-led, not-for-profit organisation, which is committed to documenting and revitalising Miriwoong, the local Indigenous language of the Kununurra region of the East Kimberley. In supporting our organisation by sponsoring the purchase of a laptop and a digital interactive e-board, Horizon Power has directly empowered and supported innovative and exciting work, which is Indigenous run and led, and which is focused on directly benefitting Aboriginal people in the present and in future generations.
As a result of this new Miriwoong Language Nest Interactive Learning initiative, the Miriwoong Language Nest continues to develop from strength to strength. The acquisition and use of an interactive whiteboard, as well as the capacity building of the team required to begin using it, has positively impacted the Language Nest Team, the children taught by the Language Nest and the community.
The use of innovative and interactive technology has enabled the Language Nest team to prepare their lessons and teach their students in a more relevant, interesting, and interactive way, which has encouraged their students to learn better and be more engaged in class.
We believe that increased teacher engagement in preparation of lessons, and student engagement in class, will lead to greater knowledge and understanding of the Miriwoong language and culture, which will, in turn, lead to greater cultural pride, mutual understanding, reconciliation, and positive social outcomes.
The "empowerment" (pun intended) of the team through the building of the team's capacity in learning to utilise the whiteboard effectively, has already (and will continue to) increase the team's capabilities and enable them to prepare and teach more classes than they are currently able to. This will increase the overall reach of the Miriwoong Language Nest and amplify the positive impacts on the community of Kununurra, which the Language Nest has already started creating.
Thank you for partnering with us, Horizon Power!
Mirima Dawang Woorlab-gerring announces launch of their new "Learn Miriwoong!" App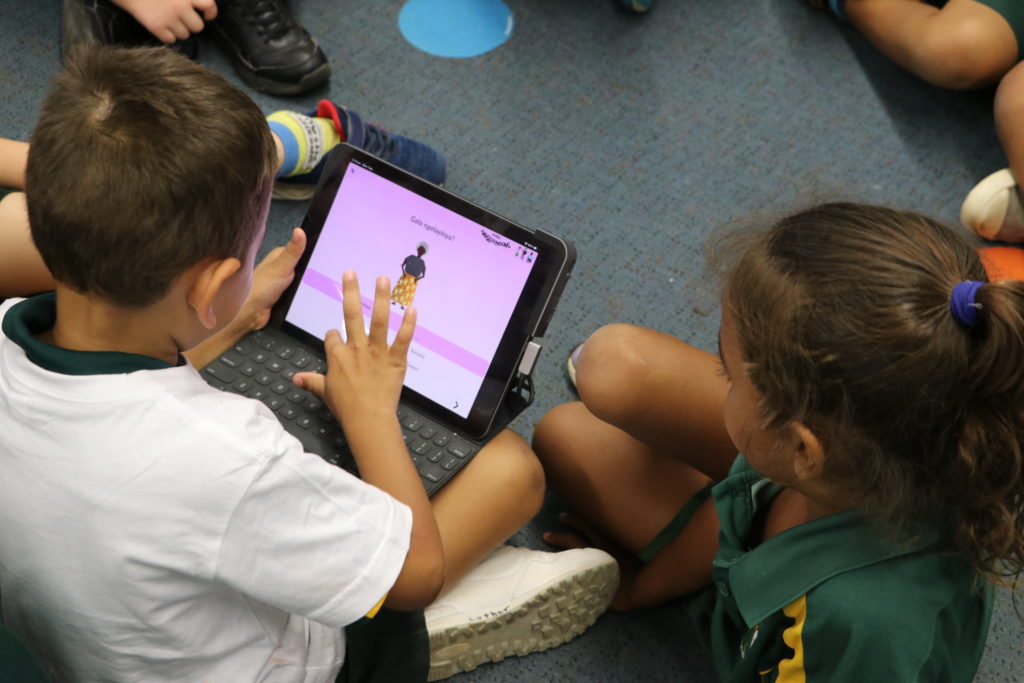 Kununurra— 7 December 2020 — Miljib yarrenkoo Miriwoo-biny! Let's all learn Miriwoong! Today, during the Pre-Primary Miriwoong Language Nest lesson at St Joseph's Primary School, Kununurra, Mirima Dawang Woorlab-gerring Language and Culture Centre (MDWg) launched their new "Learn Miriwoong!" App.
MDWg's "Learn Miriwoong!" app is based on the Miriwoong Language Nest's curriculum taught in schools in Kununurra, Western Australia. It is a fun, interactive app designed for everyone who wants to develop their Miriwoong proficiency. The app boasts activities and games for each of 11 topics (teaching about 250commonly used words and phrases). These activities and games teach the user words, questions, and grammar, so that they can make sentences in Miriwoong. The app even includes flashcards, which break down the words so the user can be sure that they are saying the words correctly. The next version of the app is predicted to teach over double the current amount of words. This app is perfect to help students revise. However, it is designed for everyone, so that anyone can have fun learning some Miriwoong!
Funded for 2 years by the Australian Government's Indigenous Languages and Arts Program, this app has been a collaborative effort between the Miriwoong Community, MDWg Language and Culture Centre and IYP Software in Melbourne. Project Linguist George Britchford and trainee Miriwoong Consultant Bryan Gallagher worked tirelessly on developing the app throughout the funding period. However, the main bulk of the construction of the app was only completed in the last 12 months. The app is made up of 15,690 responsive elements (i.e. text, audio, images, interactive elements which change size). These individual parts have been commanded, sized, tested, and built in record time, which for a small team and during the COVID-19 pandemic, is an incredible feat.
Many of the Miriwoong staff members at MDWg have played a role in the development of the app in collaboration with Bryan and George. "Learn Miriwoong!" features the voices of Miriwoong staff members of the MDWg Language and Culture Centre, speaking their language. In total, 15 different Miriwoong speakers' voices can be heard throughout the app.
Despite only just being launched, there are already over 100 downloads in Australia which highlights the community desire to learn language. We expect this number to continue to grow in the coming weeks. This groundbreaking app is one of only a handful of indigenous language learning apps in Australia and is one of the most extensive, interactive and complex apps available for free.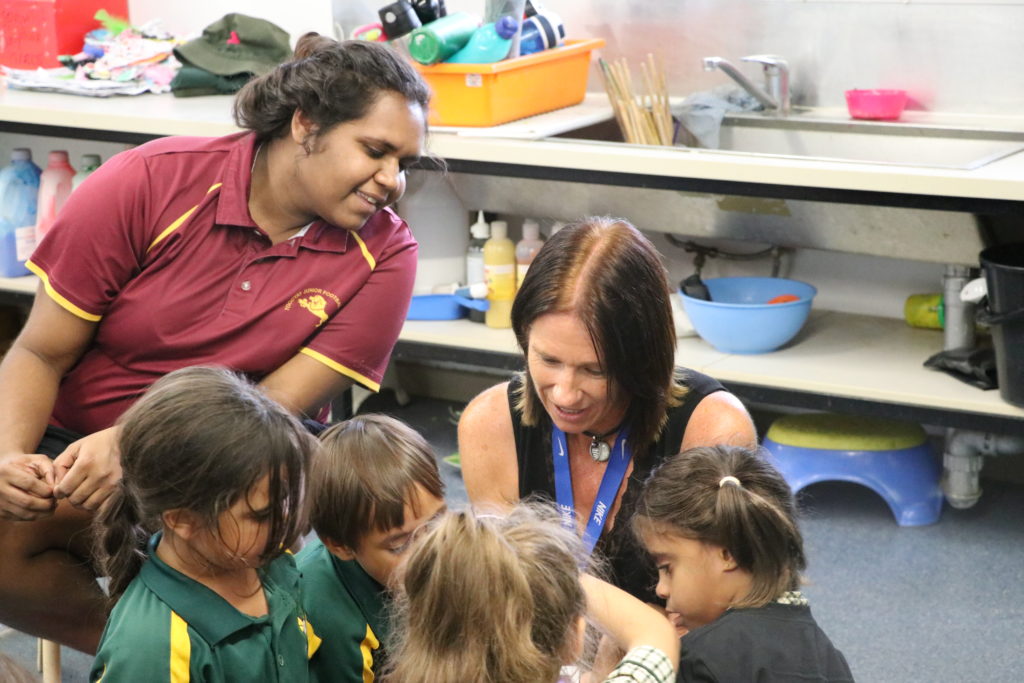 An interview with Miriwoong Language Support Officer and Trainee Consultant, Brian Gallagher:
What was your favourite about building the app?
"Recording the audio and adding it into the app. Doing the audio for the syllables and games and flashcards. I liked adding the Miriwoong voices into the app."
Why, in your words, did you make the app?
"We made it for everyone to learn Miriwoong. Not just kids or adults or thegoobeling (indigenous), or gardiya (non-indigenous). Everybody.
Which group of people would you specifically enjoy seeing using the app?
'The kids at the schools. It would make me happy to see them happy with it."
Are your family and loved ones supportive of your work?
"Yes. My family is proud and happy with me for building this."
What would you like to see for the app in the future?
"I want to get more community voices into the app next year. Not just Language Centre staff, but people in town."
Dear Prime Minister,
I would like to draw your attention to the attached media release with regard to the funding provided to Indigenous languages. Indigenous Australians warmly welcome the recently released Closing the Gap agreement, which includes the increased use of Indigenous languages as one of the 10-year targets. This is also in line with the upcoming UNESCO-declared Decade of Indigenous Languages and the recommendations made in the National Indigenous Languages Report (NILR) just released. Australians involved with language centres to maintain, revitalise, and revive our languages are concerned that the funding made available through the Indigenous Languages and Arts (ILA) program will not suffice to achieve those goals and the attached article investigates the details of this predicament.
On behalf of the wider community involved in Indigenous language work I would like to invite you to review this document and take action to improve the situation of Indigenous language centres.
We are sharing these concerns with the media on a nationwide scale and hope this will resonate positively with the Commonwealth Government.
Thank you for your consideration and kind regards,
Knut Olawsky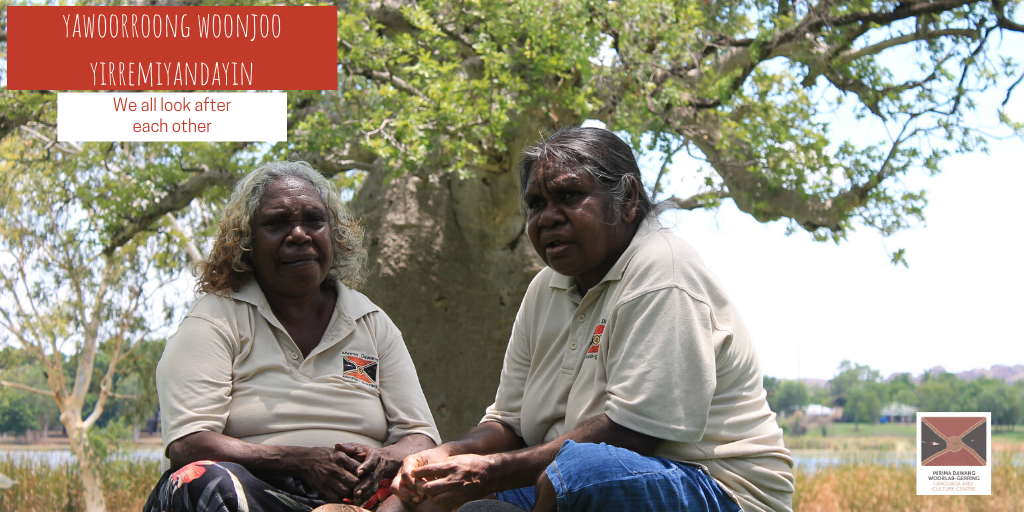 July 2020 update: Due to COVID-19 restrictions and travel limitations, this offer applies to current residents of Western Australia only.

Mirima Dawang Woorlab-gerring Language and Culture Centre (MDWg) is an Aboriginal organisation seeking to preserve and revitalise the Miriwoong language of the East Kimberley region of Western Australia. Our language revitalisation initiatives include a wide range of activities, including a language education program for children, resource development, provision of Miriwoong language classes, and development of bilingual radio broadcasts. For the second half of 2020, we are
offering successful applicants an opportunity to get to know MDWg language revitalisation activities.

Applicants are encouraged to select from the following options in terms of timing:
Standard internship, for 10 weeks, starting either in July/August or September/October 2020
Special internship, from July/August to December 2020 (5-6 months; a 12 month option is negotiable)
Variations with regard to the start dates may be negotiable but 10 weeks is usually the minimum length our internships.

Successful candidates will have the opportunity to get to know the various aspects of our language revitalisation program. This may include engaging with our team of Miriwoong language support officers, as well as supporting different forms of training, such as lesson planning, resource development, or radio broadcasts. We also manage an early childhood language learning program (Miriwoong Language Nest). The focus of engagement in different areas will negotiated with successful candidates.

While MDWg is not in a position to pay any compensation, we have limited funds to subsidise the costs for accommodation (details upon request). All interns are engaged as volunteers and their involvement does not constitute employment on any salary of wage. What we can offer is an unforgettable experience working with the local Miriwoong community, hands-on knowledge about the issues of language revitalisation and some skills related to the work of a linguist or educator in the Indigenous sector. For students currently enrolled at a university, a part-time engagement may be negotiable.

All internships require a valid WA Working with Children Check and National Police Clearance. MDWg is prepared to reimburse the cost for these applications.

Applicants should have a background in languages, linguistics, education, Indigenous studies, or related fields, be open to working in a diverse cultural environment, and probably have some sense of adventure, including a tolerance to Kimberley temperatures.

In order to apply, please send us a brief expression of interest first, indicating your preferences for type and time of internship. We will then respond with a detailed description. A simple selection process applies. While there is no deadline, we will start reviewing applications immediately and reserve the right to appoint a suitable candidate at our discretion.

Contact:
Please e-mail your expression of interest to Knut J. Olawsky, manager@mirima.org.au

We look forward to hearing from you.