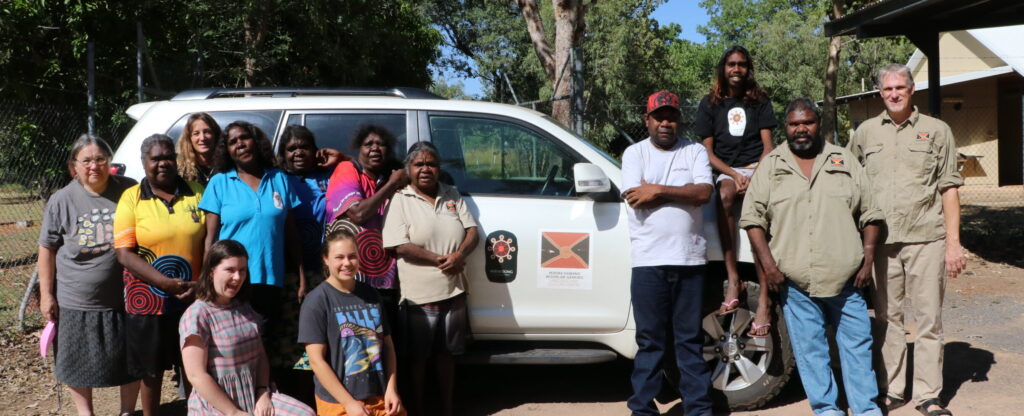 The MDWg Team
MDWg is made up of a dedicated team of Language Workers, linguists, Elders, consultants, admin and management staff. We work in a multicultural environment and aim to increase the use of Miriwoong language wherever possible.
Scroll down to read a brief bio of the people that make up MDWg:
---
Management and Board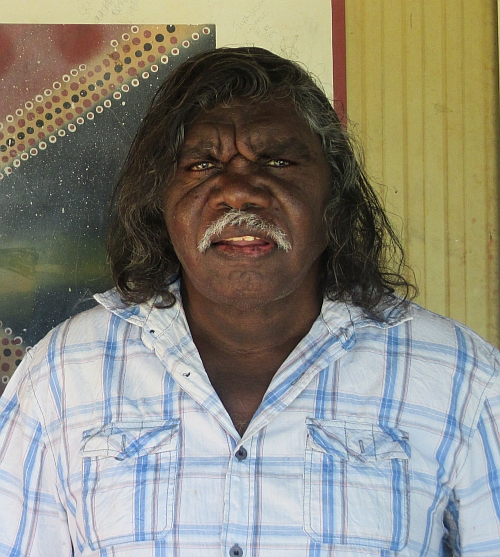 DAVID NEWRY- Director
DAVID NEWRY has played a crucial role in establishing the work of Mirima Council since the 1990s and was the chair of the organisation for over two decades. He was instrumental in developing the work of the Kimberley Interpreting Service (Now AIWA) in 2000, after initiating a feasibility study regarding the need for interpreting in the health and justice sectors. David also helped found a range of further Aboriginal organisations now operating successfully in Kununurra. He is the Senior Language and Culture Consultant and main presenter of the cultural awareness program at MDWg. Among his many achievements in working with the Language Centre, David was a key figure in developing the Miriwoong Seasonal Calendar. This resource links Miriwoong language and culture with the land of past, present and future generations. In recognition of his skills as a language and cultural mentor for the community, he was recognised for his Outstanding Individual Contribution to Arts and Culture by the East Kimberley Aboriginal Achievement Awards in 2011.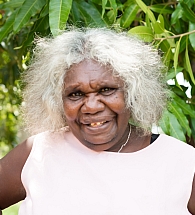 AGNES ARMSTRONG – Elder & Language and Culture Consultant
AGNES ARMSTRONG is a renowned artist with the Waringarri Arts Centre as well as a major contributor to many of MDWg's activities. She supports Miriwoong language revitalisation by functioning as a language consultant, attending field trips and conducting welcome addresses.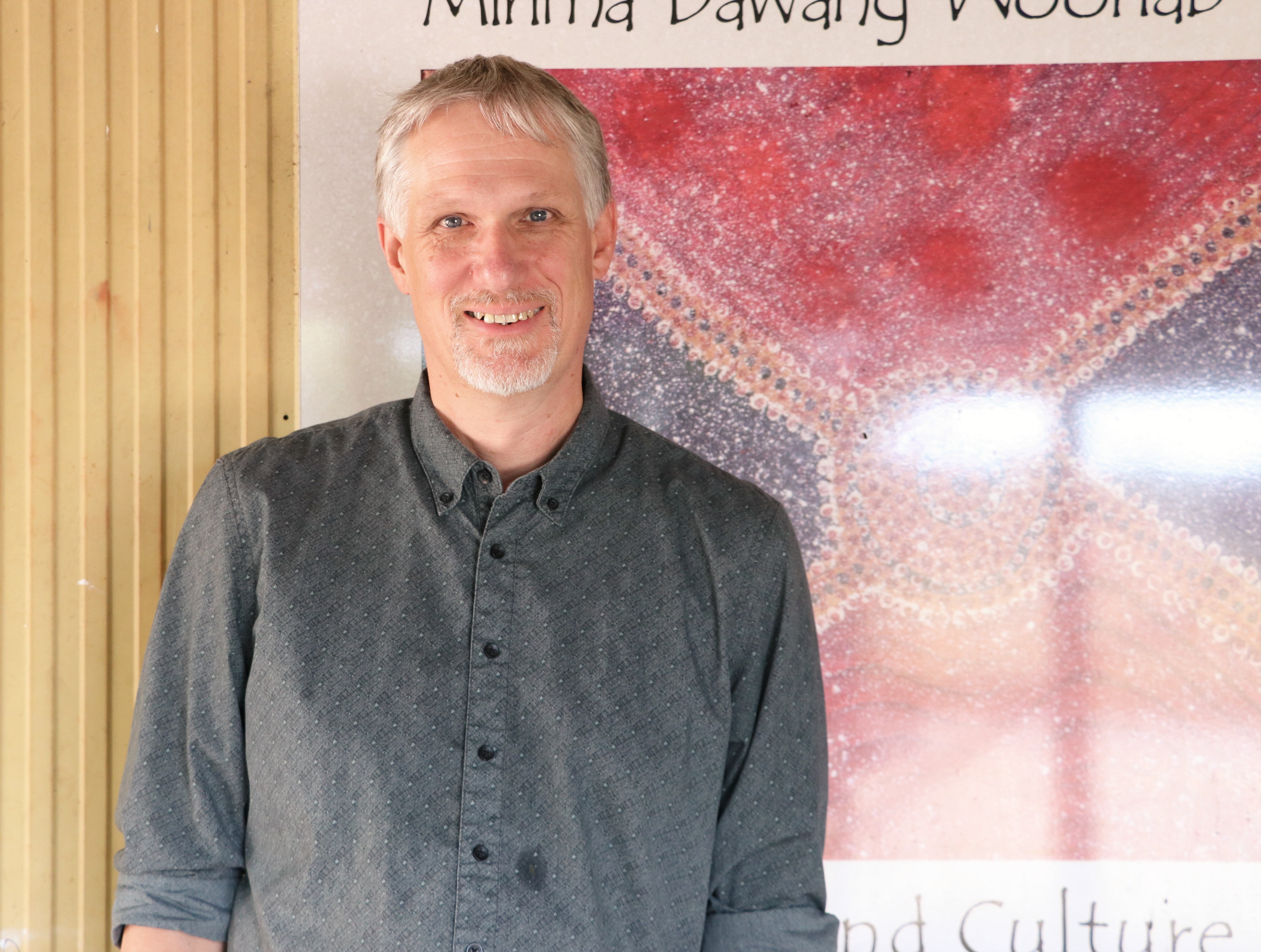 KNUT J. "KJ" OLAWSKY- CEO & Senior Linguist
KJ OLAWSKY has been the Senior Linguist and Manager at the MDWg since 2005. He works with the Miriwoong and Gajirrabeng people to preserve and revitalise their traditional languages and cultures. Operating in close partnership with a governing committee of traditional Elders, Knut has initiated a range of strategies for Miriwoong language revitalisation, some of which have been highly innovative for Australia. His efforts in helping to maintain and revitalise the Miriwoong language include initiatives such as the start of a Master-Apprentice program, Miriwoong Language Nest and other activities. In his role as a linguist, Knut has published grammars of Indigenous languages from Ghana and Peru. He is currently working with team members to describe the grammar of Miriwoong. Knut holds an MA and a PhD from Duesseldorf University (Germany) and has previously held postdoctoral positions at the University of California at Berkeley (USA) and the Research Centre for Linguistic Typology (La Trobe University, Melbourne).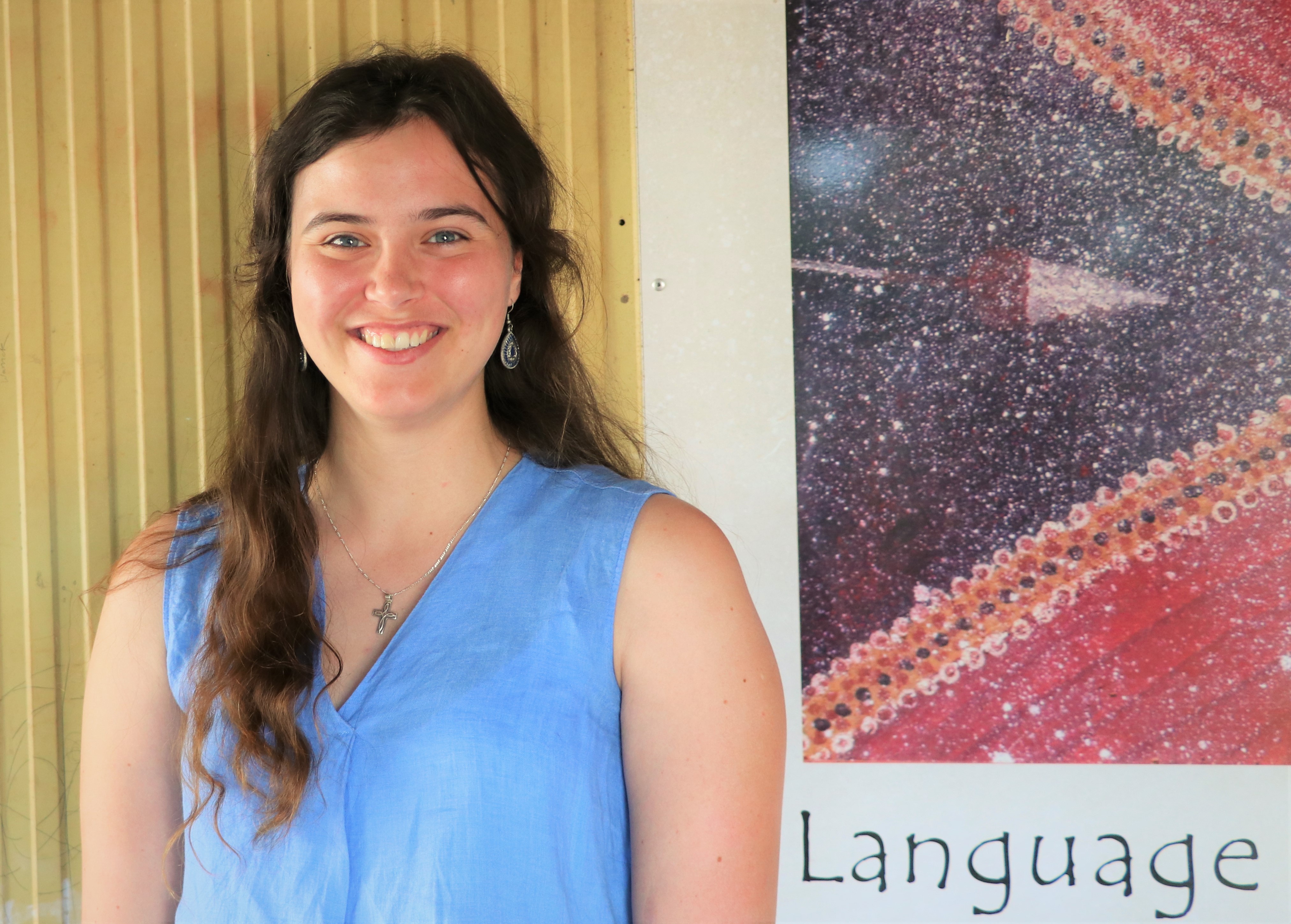 ANNIE CUMBERLEGE – Office Management
ANNIE CUMBERLEGE has a great interest in languages, particularly in the way it intersects and interacts with culture, anthropology, literature, history, psychology and questions of identity. She loves people, and she is keen to see them reach their potential and support them along the way. With a BA (Linguistics, Literature) from the University of Melbourne, and a Diploma of Communication from ASCA, she hopes to support the Miriwoong people in their efforts to revitalise their language and culture by assisting the Board and staff of MDWg in the day-to-day running of the Language Centre.
EMMA WILSON – Mirima Operations Support Officer
EMMA WILSON joined the Language Centre in 2021 as a Language teacher. Emma enjoyed her role as a teacher enormously- always keen to discover more about her language and culture and sharing her knowledge with the kids in our schools every week. In this time Emma developed strong interpersonal and computer skills and also showed an interest in administrative activities. Emma began her role as MOSO in late 2022. She is eager to keep advancing her business administration skills to help the Language centre and its operations run smoothly and efficiently.
---
BRIAN GALLAGHER – Language Resource Officer
BRIAN GALLAGHER has been working at MDWg since 2017. He was elected Chairperson of the Board of Directors of Mirima Council Aboriginal Corporation in 2020. He is proud of his language and is happy to be working here with the team and the elders. He likes preparing materials and presenting classes, radio recordings, and assisting with his technology skills. He is a confident teacher, and enjoys learning new skills, working in a team, and sharing knowledge.
The Language Team
ROZANNE BILMINGA – Chairperson & Senior Language Engagement Officer
Since joining MDWg's Language Nest team in 2015, Rozanne has worked tirelessly to increase her language proficiency and to develop professionally. In 2016, Rozanne completed a Certificate III in Aboriginal Languages for Communities and Workplaces. Additionally, Rozanne recently completed training which qualifies her as a language teacher with a limited authority to teach. She demonstrates strong leadership and a commitment to reconnecting her community to Miriwoong language and culture. She is an indispensable member of the Language Nest team.
---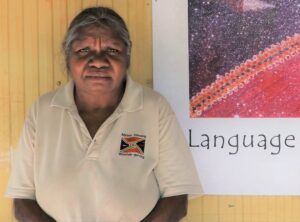 GLENNIS GALBAT-NEWRY – Language Engagement Officer
GLENNIS GALBAT-NEWRY is a Miriwoong woman who has been working with MDWg for many years. She first worked for MDWg in 1998 for four years and then resumed her work in 2006. Her role as a Language Worker entails a variety of tasks and has a focus on language transmission to following generations. Glennis is the author of two children's books on Miriwoong animals. She has also completed training as an interpreter and trainer for the Master-Apprentice language learning model. Glennis is constantly improving her skills in teaching her own endangered language to children and young adults and also teaches Miriwoong as part of MDWg's public language class. She has also been an active member of the consultant group for the development of the Miriwoong Seasonal Calendar. This resource functions as an important tool for land management by the Miriwoong people. She strongly feels that her traditional language is a crucial element in looking after country.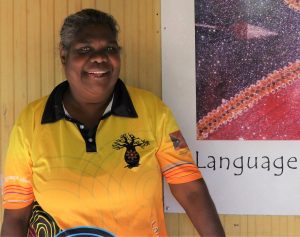 HELEN BOOMBI – Language Engagement Officer
HELEN BOOMBI loves seeing Miriwoong children engage with the language lessons through songs, stories and language activities. Her sense of humour and fun, laid back personality makes her a vibrant presence in the classroom, and she loves to help and encourage her fellow teachers. Helen aspires to be a strong Miriwoong speaker and a confident teacher.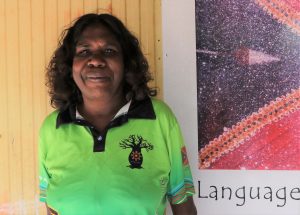 DIANNE DINGLE – Language Engagement Officer
DIANNE DINGLE joined MDWg in 2016 with her sister Barbara, and quickly settled in to be a valued member of the Language Nest team. She has found great personal joy in reconnecting with her proud Miriwoong heritage. Dianne is excited to be helping young children grow up with an understanding of Miriwoong language and culture. She will soon graduate from the ALTT program, a qualified Aboriginal Languages Teacher! Dianne's passion and enthusiasm has helped her learn quickly and she hopes to continue to work closely with Elders in order to become a leader in the community.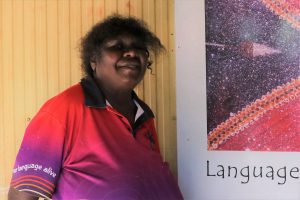 ANGELA DINGLE – Language Engagement Officer
ANGELA DINGLE joined her sister Dianne at MDWg in 2018. She soon became a dependable and valued member of the Language Nest team. Like her sister, Angie loves teaching children, and is excited to be helping young children grow up with an understanding of Miriwoong language and culture.
SHERINA ARMSTRONG – Language Engagement Officer
SHERINA ARMSTRONG is one of our newest members at the Language Nest. Sherina loves engaging the younger year classes with songs and stories in Language. She hopes that as she teaches kids Miriwoong, her own language skills can become stronger so that she can become a fluent speaker and teach many people about Miriwoong language and culture. She also hopes that as she works in the community as a teacher, that she can be a good role model for young Miriwoong girls. Sherina is working toward starting an Aboriginal Languages Teacher Training (ALTT) course so she can be a confident teacher.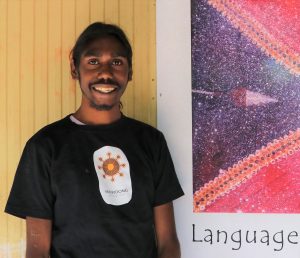 CHE KELLY – Language Engagement Officer
CHE KELLY has been working at the Mirima Language and Culture Centre as a Miriwoong teacher since November of 2021. Che loves practicing and teaching himself new Miriwoong words so he can become a fluent speaker like his Elders. Che is also enthusiastic about teaching others about Miriwoong Language so they can respect and communicate with the Miriwoong people around Kununurra, especially the next generation of Miriwoong kids. Che loves teaching Language to the kids in our local schools, and he hopes that he can do an Aboriginal Languages Teacher Training (ALTT) course so that he can teach kids in the best way possible!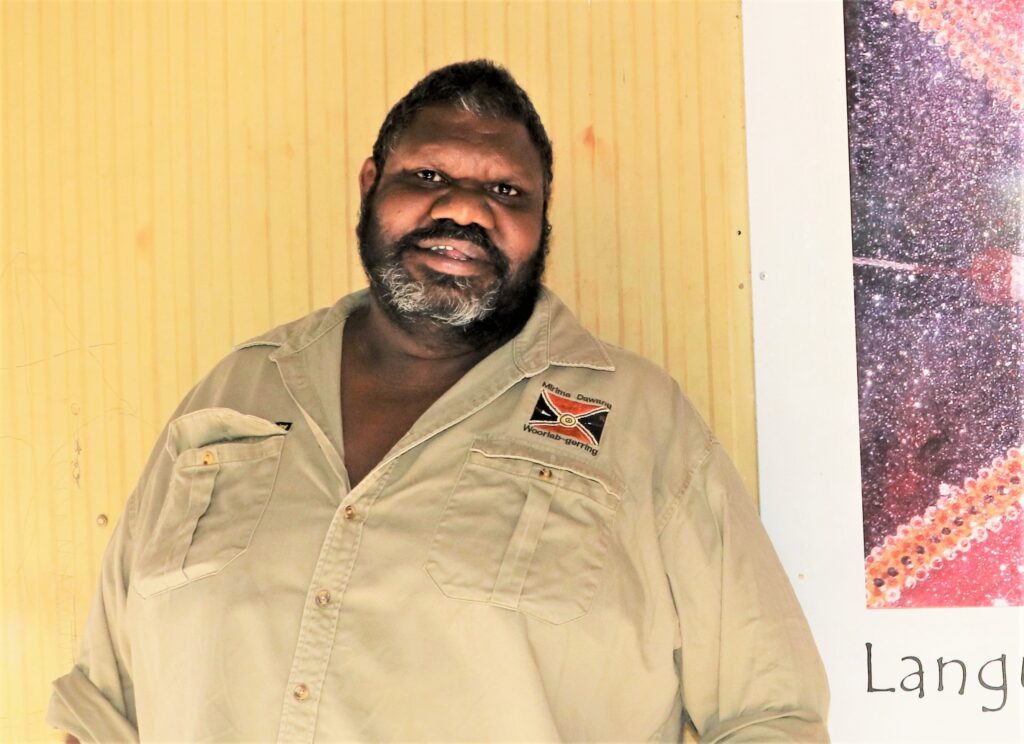 JIMMY PADDY – Language & Culture Consultant
JIMMY PADDY is a Miriwoong/Gajirrabeng man from Kununurra (Western Australia). He has been a Language Worker with Mirima Dawang Woorlab-gerring (MDWg) for more than 7 years. As part of his Language and Culture consultations, Jimmy also teaches at the schools. Jimmy enjoys teaching the early years classes and has a passion for teaching Indigenous boys about Miriwoong language and culture. Jimmy also has a strong interest in using technology for language revitalisation. Jimmy has been working in video and audio editing, slideshows and database software to create language resources.
IRIS MENZIES – Language Education Facilitator (Younger Years)
IRIS MENZIES is from the Blue Mountains, NSW, and studied Linguistics and Spanish at the University of Sydney before moving to Kununurra in 2019 to volunteer at MDWg. She loved it so much that she then stayed on as Language Services Facilitator. In 2021 she completed a Masters of Applied Linguistics and Second Language Acquisition through the University of Oxford, before recently returning to MDWg as Language Education Facilitator. She loves working together with all the Miriwoong teachers, seeing kids having fun learning Miriwoong, and seeing the program expand every year.
---
SOPHIE HOGARTH – Language Education Facilitator (Older Years)
SOPHIE HOGARTH is from the East Coast of Tasmania and has been working MDWg as a Language Education Facilitator since 2021. Sophie has many years' as a teacher, and it was while teaching in the remote communities in the Western Desert that she developed a deep interest in Australia's Aboriginal languages, motivating her to complete a Masters of Applied Linguistics and continue her work in communities as Bilingual Language Coordinator. Her passion for education and her desire to work alongside people engaged in the language revitalization process is what attracted her to the Language Nest Program. She is inspired every day by the Miriwoong teachers, and their courage and determination to learn and teach their language.
---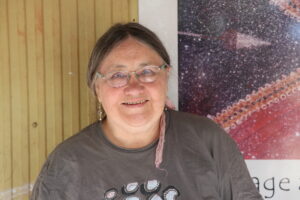 FRANCES KOFOD – Project Linguist
FRANCES KOFOD has been involved in many projects to do with language and culture in the East Kimberley during the past forty years, including extensive work with all Jarragan languages (Miriwoong, Gajirrabeng, and Gija). She came to Kununurra in the 1970s to record Miriwoong language for the University of New England. Frances completed a description of Miriwoong grammar as an MA Honours thesis in 1978. She also recorded Gajirrabeng at the request of senior speakers. In 1989 she assisted the Mirima Council in setting up Mirima Dawang Woorlab-gerring Language and Culture Centre (MDWg). Frances still works part-time for MDWg, assisting with the Miriwoong Master-Apprentice program and working on grammar, dictionary and traditional ecological knowledge projects. Since 2009, after completion of a community dictionary with Miriwoong people she has been working with other linguists on the Miriwoong Grammar project with a focus on the vastly complex system of Miriwoong verbs.